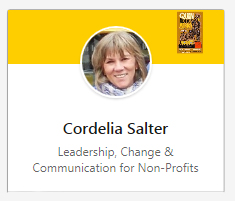 Cordelia is English and grew up in Cheltenham. She started her career on Fleet Street and then as a freelance journalist in Cairo. Branching out, she joined a development project that was introducing personal computers into Egyptian university offices (Apple IIEs in the early 80s!)
Her niche became developing information systems for humanitarian projects in Africa. In 1985 she was one of the founding members of a Drought and Famine Early Warning System in Sudan. She developed a rice quantity accounting system in Sierra Leone, a mechanized farming spare parts tracking system on the Sudan-Ethiopia border and a country wide aid commodity tracking system in Ethiopia. She also developed several automated payrolls in African currencies.
In the late 90s she was able to get one of the first internet connections in Ethiopia and launched her career as a web developer. A few years later in Ghana  she became a social business entrepreneur and founded eShopAfrica.com, an ecommerce portal creating sustainable businesses for traditional African artisans. She's an alumni of the Santa Clara University's Global Social Benefit Incubator.
In 2002 Cordelia moved to Rome where she's still based. She has rolled out major online advocacy and communication campaigns for non-profits. Since 2009 she has been the Lead Planning and Communications Coordinator for the UN Committee on World Food Security
She is a business mentor with the Cherie Blair Foundation for Women and is launching a new  online coaching and mentoring platform Demistifi.com  to support women entrepreneurs.
Cordelia speaks Arabic, Italian and French. She has an MBA from the University of Liverpool and is the sister of Rebecca Salter, Keeper of the Royal Academy of Arts, London.
Get in touch or find Cordelia on LinkedIn
Here are some links by or about Cordelia
Save